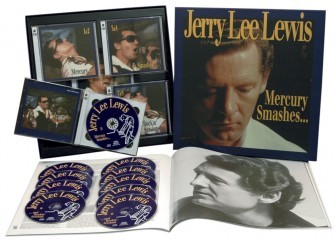 10-CD box (LP-size) with 64-page book, 226 tracks. Playing time approx. 715 mns. Damn...
mehr
Produktinformationen "LEWIS, JERRY LEE - Mercury Smashes 10-CD + book"
10-CD box (LP-size) with 64-page book, 226 tracks. Playing time approx. 715 mns.

Damn Good Country Songs and Jerry Lee's Rock 'n' Roll Revival Show. That was the story of the last eight years of Jerry Lee Lewis on Mercury Records...the story told on these 10 CDs.

Between 1970 and 1973, nearly every Jerry Lee Lewis single entered the country Top 20, including such classic country chart-toppers as 'There Must Be More To Love Than This' and 'Would You Take Another Chance On Me/Me And Bobby McGee'. The years covered by this boxed set were the most consistently successful of Jerry Lee's career, but they were troubled years too. This set chronicles his journey from country chart-topper back to the church, and his triumphant return to rock 'n' roll with 'Chantilly Lace'. All the classic albums from 1970 to 1978 are included complete (with the exception of the 'London Sessions' and the live albums, which will be issued separately). The Huey P. Meaux-produced 'Southern Roots' session is here together with all the unissued cuts and out-takes, as well as 'The Killer Rocks On', the rare gospel album 'In Loving Memories', and ten other original Mercury LPs. In addition, there are more than 40 recordings not originally issued by Mercury in the Seventies making their first appearance on CD here. This set also features upgraded sound and includes previously unpublished photos, a newly researched text and session-by-session notes by Colin Escott, and a newly researched discography by Ari Bass.
Content
Medium 1
001 Gather 'Round Children
002 I'd Be Talkin' All The Time
003 Alvin
004 I Forgot More Than You'll Ever Know
005 Bottles And Barstools
006 Life's Little Ups And Downs
007 There Must Be More To Love Than This
008 Sweet Georgia Brown
009 Home Away From Home
010 Woman, Woman (Get Out Of Our Way)
011 Reuben James
012 Before The Snow Flies (& LINDA GAIL LEWIS)
013 Cheater Pretend (& LINDA GAIL LEWIS)
014 He Looked Beyond My Fault
015 Hand Writing On The Wall (& LINDA GAIL LEWIS)
016 The Old Rugged Cross
017 The Lily Of The Valley
018 If We Never Meet Again/I'll Meet You In The..
019 I'm Longing For Home
020 Black Mama
021 I'll Fly Away
022 I Know That Jesus Will Be There (& L.GAIL L.)
023 My God's Not Dead
024 Foolaid
025 One More Time
026 Too Much To Gain To Lose
Medium 2
001 Jealous Heart
002 The Last Letter
003 Meeting In The Air
004 Where He Leads Me
005 Living On The Hallelujah Side
006 A Picture From Life's Other Side
007 The Hurtin' Part
008 Touching Home
009 Comin' Back For More
010 When Baby Gets The Blues
011 Help Me Make It Through The Night
012 Mother, The Queen Of My Heart
013 Time Changes Everything
014 Hearts Were Made For Beating
015 When He Walks On You (Like You Have Walked..)
016 You Helped Me Up (When The World Let Me Down)
017 Foolish Kind Of Man
018 Another Hand Shakin' Goodbye
019 Please Don't Talk About Me When I'm Gone
020 The Goodbye Of The Year
021 Someday (You'll Want Me To Want You)
022 No Honky Tonks In Heaven
023 Big Blon' Baby
024 Lonesome Fiddle Man
025 Things That Matter Most To Me
026 I Don't Know Why, I Just Do
027 Thirteen At The Table
028 For The Good Times
029 Would You Take Another Chance On Me
Medium 3
001 Me And Bobby McGee
002 And For The First Time
003 Think About It, Darlin'
004 No Traffic Out Of Abilene
005 Chantilly Lace
006 Lonely Weekends
007 C.C. Rider
008 Walk A Mile In My Shoes
009 Games People Play
010 Don't Be Cruel
011 You Can Have Her
012 I'm Walkin'
013 You Don't Miss Your Water
014 Me And Jesus (& LINDA GAIL LEWIS)
015 Too Many Rivers
016 Wall Around Heaven
017 We Both Know Which One Of Us Was Wrong
018 Parting Is Such Sweet Sorrow (instrumental)
019 Who's Gonna Play That Old Piano
020 Bottom Dollar
021 Parting Is Such Sweet Sorrow (vocal)
022 No More Hanging On
023 The Mercy Of A Letter
024 She's Reaching For My Mind
Medium 4
001 Jack Daniels (Old Number Seven)
002 Why Me Lord (& MOETTA HILL)
003 Ride Me Down Easy
004 Cold, Cold Morning Light
005 The Alcohol Of Fame
006 Tommorow's Taking Baby Away
007 Mama's Hands
008 What My Woman Can't Do
009 Tell Tale Signs
010 The Morning After Baby Let Me Down
011 I Think I Need To Pray
012 I Hate Goodbyes
013 Where Would I Be
014 My Cricket And Me
015 Falling To The Bottom
016 The Gods Were Angry With Me
017 Sometimes A Memory Ain't Enough
018 Bluer Words
019 He Can't Fill My Shoes
020 I'm Left, You're Right, She's Gone
021 Keep Me From Blowing Away
022 Honky Tonk Wine
023 Room Full Of Roses
Medium 5
001 Meat Man (master)
002 When A Man Loves A Woman (master)
003 Hold On I'm Coming (slow master)
004 Just A Little Bit
005 Born To Be A Loser (master)
006 Haunted House (master)
007 Blueberry Hill
008 The Revolutionary Man
009 Big Blue Diamonds (master)
010 That Old Bourbon Street Church (master)
011 All Over Hell And Half Of Georgia
012 Take Your Time
013 Haunted House (master-extended version)
014 I Sure Miss Those Good Old Times (master)
015 Margie (master)
016 Raining In My Heart (master)
017 Hold On I'm Coming (fast master)
018 Cry (master)
019 Honey Hush
020 Silver Threads Among The Gold (master)
Medium 6
001 Meat Man (master-vocal/piano mix)
002 Big Blue Diamonds (instrumental-piano mix)
003 I Sure Miss Those Good Old Times (duet voc./p
004 Chatter: Jerry Lee Lewis, Tony Joe White, ...
005 When A Man Loves A Woman (alt.-voc./piano mix
006 Silver Threads Among The Gold (master-voc./p.
007 Hold On I'm Coming (fast)(false start-voc./p.
008 Cry (4)(rehearsal-vocal/piano mix)
009 Margie (false start & take)(rehearsal voc./p.
010 A Picture From Life's Other Side
011 I've Forgot More About You Than He'll Ever...
012 Until The Day Forever Ends
013 Boogie Woogie Country Man
014 I Can Still Hear The Music In The Restroom
015 Speak A Little Louder To Us Jesus
016 Honey Hush
017 Jesus Is On The Mainline (Call Him Sometime)
Medium 7
001 Remember Me (I'm The One Who Loves You)
002 Shake, Rattle And Roll
003 Love Inflation
004 I Don't Want To Be Lonely Tonight
005 Forever Forgiving
006 A Little Peace And Harmony
007 No One Knows Me
008 When I Take My Vacation In Heaven
009 I'm Still Jealous Of You
010 You Ought To See My Mind
011 Don't Boogie Woogie (When You Say Your...)
012 Thanks For Nothing
013 Red Hot Memories (Ice Cold Beer)
014 I Was Sorta Wonderin'
015 Jerry's Place
016 That Kind Of Fool
017 Your Cheatin' Heart
018 Crawdad Song
019 The House Of Blue Lights
020 Goodnight Irene
021 A Damn Good Country Song
022 A Damn Good Country Song (diff. vocal appr.)
023 Lord What's Left For Me To Do
024 Great Balls Of Fire
025 The One Rose That's Left In My Heart
026 I'm Knee Deep In Loving You
027 I Can Help
028 I Can Help
Medium 8
001 Slippin' And Slidin'
002 From A Jack To A King (blues version)
003 From A Jack To A King (country version)
004 After The Fool You've Made Of Me
005 The Closest Thing To You
006 I Can't Keep My Hands Off Of You
007 The One Rose That's Left In My Heart
008 Wedding Bells
009 The Fifties
010 No One Will Ever Know
011 Only Love Can Get You In My Door
012 The Old Country Church
013 Harbor Lights
014 Jerry Lee's Rock'n'Roll Revival Show
015 I Sure Miss Those Good Old Times
016 Let's Put It Back Together Again
017 Country Memories
018 As Long As We Live
019 Jealous Heart
020 (You'd Think By Now) I'd Be Over You
021 Come On In
022 Who's Sorry Now
Medium 9
001 Let's Say Goodbye Like We Said Hello
002 Georgia On My Mind
003 What's So Good About Goodbye
004 Tennessee Saturday Night
005 Ivory Tears
006 Middle Age Crazy
007 The Last Letter
008 The Last Cheater's Waltz
009 Let's Live A Little
010 I Hate You
011 Before The Night Is Over
012 Sittin' And Thinkin'
013 Blue Suede Shoes
014 Lucille
015 Corrine, Corrina
016 Don't Let The Stars Get In Your Eyes
017 Sweet Little Sixteen
018 Life's Railway To Heaven
019 Ivory Tears
020 You Call Everybody Darling
021 Wild And Wooly Ways
022 I'll Find It Where I Can
023 Lord, I've Tried Everything But You
024 You're All Too Ugly tonight
025 Arkansas Seesaw
026 Pee Wee's Place
027 Hand Writing On The Wall (extended re-mix)
Medium 10
001 Hound Dog
002 Mean Woman Blues
003 Great Balls Of Fire
004 Mystery Train
005 Whole Lotta Shakin' Goin' On
006 Jailhouse Rock
007 interview with Jerry Lee Lewis


| | |
| --- | --- |
| manufacturer: | BEAR FAMILY |
Weiterführende Links zu "LEWIS, JERRY LEE - Mercury Smashes 10-CD + book"
Bewertungen lesen, schreiben und diskutieren...
mehr
Kundenbewertungen für "LEWIS, JERRY LEE - Mercury Smashes 10-CD + book"
Bewertung schreiben
Bewertungen werden nach Überprüfung freigeschaltet.