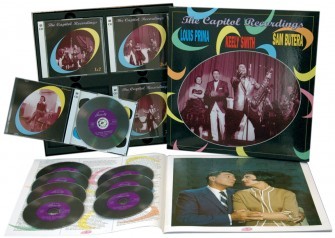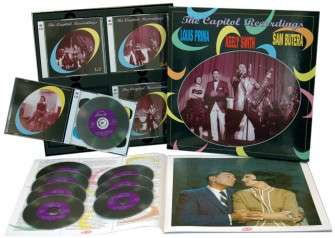 The Capitol Recordings 8-CD&40-PAGE-BOOK 8-CD Box (LP-Format) mit 40-seitigem Buch, 198...
mehr
Produktinformationen "PRIMA, LOUIS - The Capitol Recordings 8-CD&40-PAGE-BOOK"
The Capitol Recordings 8-CD&40-PAGE-BOOK
8-CD Box (LP-Format) mit 40-seitigem Buch, 198 Einzeltitel. Spieldauer ca. 561 Minuten.

Louis Prima wurde zur Kultfigur. In den Dreißiger- und Vierzigerjahren hatte er als Jazztrompeter gearbeitet. Als er 1956 bei Capitol unterschrieb war er der Boss einer heißen Combo mit Sam Butera und dem ultra-coolen Keely Smith. Die Musik des Louis Prima entstand aus seiner eigenen Ausgelassenheit. Sein Stil war weder richtiger R&B, Pop oder Jazz. Es war schlichtweg 'The Wildest!, so, wie es Louis versprochen hatte. Diese umfangreiche Box enthält alle Capitol-Aufnahmen von 1956 - bis 1962 sowie Keelys Soloalben. Zu den Songs gehören 'That Old Black Magic', 'Buona Sera', 'Just A Gigolo', 'Jump Jive & Wail', 'Oh Marie', 'I Ain't Got Nobody', 'Banana Split For My Baby', 'Felicia No Capicia' .... und viele, viele mehr, einschließlich etlicher, nur schwer zu findender Livealben. Wenn es um den passenden Soundtrack für ungenierte Saufgelage, Hurerei und Glücksspiel geht, dann bleibt Louis Prima ungeschlagen

Inhalt
Medium 1
001 Buona Sera
002 Oh Marie
003 Just A Gigolo/I Ain't Got Nobody
004 Body And Soul
005 Jump, Jive, An' Wail
006 (Nothin's Too Good) For My Baby
007 I'll Be Glad When You're Dead You Rascal You
008 Basin Street Blues
009 When It's Sleepy Time Down South
010 Night Train
011 The Lip
012 Whistle Stop
013 Five Months, Two Weeks, Two Days
014 Banana Split For My Baby
015 Be Mine (Little Baby)
016 When You're Smiling/The Sheik Of Araby
017 The Birth Of The Blues
018 Blow, Red Blow
019 When The Saints Go Marching In
020 Sentimental Journey
021 There'll Be No Next Time
022 The Closer To The Bone
023 I've Got The World On A String
024 Much Too Young To Lose My Mind
025 Don't Let A Memory
026 Pennies From Heaven
027 Baby Won't You Please Come Home
028 Autumn Leaves
Medium 2
001 The Pump Song
002 The Boulevard Of Broken Dreams
003 Natural Guy
004 Beep! Beep!
005 If You Were The Only Girl
006 Bourbon Street Blues
007 Sing, Sing, Sing
008 That Old Black Magic
009 Judy
010 Felica No Capicia
011 That's My Home
012 Moonglow
013 Gotta See Baby Tonight
014 Fee Fie Foo
015 The Music Goes 'round And 'round
016 Fever
017 Oh, Marie
018 Don't Take Your Love From Me
019 Hey Boy, Hey Girl
020 Lazy River
021 Hey Boy, Hey Girl (reprise)
022 Nothing's Too Good For My Baby
023 Oh, Marie (alternate take)
Medium 3
001 I've Got You Under My Skin
002 Don't Take Your Love From Me
003 You're Just In Love
004 Harlem Nocturne
005 Glow-Worm
006 Just One Of Those Things
007 All Night Long
008 Lover Come Back To Me
009 Everybody Knows
010 Ain't Misbehavin'
011 Way Down Yonder In New Orleans
012 Three Handed Woman
013 St. Louis Blues
014 Twist All Night
015 John Ping Pong
016 Ooh, Look What You've Done To Me
017 Big Daddy
018 Sunday Lover
019 Little Girl Blues
020 LIVE AT HARRAH'S CLUB(& G.MAIONE):Scuba Diver
021 I Want You To Be My Baby
022 Shadrack
023 The Next Time
024 Lady Of Spain
025 Hello Lover, Goodbye Tears
026 Undecided
027 Come Rain Or Come Shine
028 Go Back Where You Stayed Last Night
Medium 4
001 On The Sunny Side Of The Street
002 Exactly Like You
003 A Foggy Day
004 How High The Moon
005 [Medley: Angelina/Zooma Zooma]
006 Don't Worry 'Bout Me/In The Mood For Love
007 Come Back To Sorrento
008 I Gotta Right To Sing The Blues
009 Robin Hood/Oh Babe!
010 LIVE AT THE SAHARA: Judy
011 Them There Eyes/Honey Suckle Rose
012 Tiger Rag/Just Because
013 Embraceable You
014 I Got It Bad And That Ain't Good
015 Should I
016 I Can't Believe That You're In Love With Me
017 The White Cliffs Of Dover
018 Holiday For Strings
019 Greenback Dollar Bill
020 Love Of My Life (O Sole Mio)
021 Too Marvelous For Words
Medium 5
001 I Wish You Love
002 I Would Do Most Anything For You
003 Shy
004 Rock-A-Doodle-Doo
005 Young And In Love
006 You'll Never Know
007 Good Behavior
008 You Better Go Now
009 As You Desire Me
010 Fools Rush In
011 Imagination
012 You Go To My Head
013 Don't Take Your Love From Me
014 When Your Lover Has Gone
015 All The Things You Are
016 When Day Is Done
017 I Wish You Love
018 Mr. Wonderful
019 If We Never Meet Again
020 I Understand
021 The Whipporwill
022 You Are My Love
023 Sometimes
024 Just As Much
025 Indian Love Call
026 The Nearness Of You
027 Someone To Watch Over Me
Medium 6
001 The Man I Love
002 It's Magic
003 What Is This Thing Called Love?
004 Stormy Weather (Keeps Rainin' All The Time)
005 There'll Never Be Another You
006 It's Been A Long, Long Time
007 You're Driving Me Crazy
008 Stardust
009 What Can I Say After I Say I'm Sorry
010 Nitey Nite
011 KEELY SMITH & VAN ALEXANDER: Hurt Me
012 I Keep Forgetting
013 High School Affair/KEELY SMITH & BILLY MAY:
014 Nothing In Common (& FRANK SINATRA)
015 How Are Ya' Fixed For Love? (& FRANK SINATRA)
016 S'posin'
017 The Song Is You
018 On The Sunny Side Of The Street
019 I'll Get By (As Long As I Have You)
020 I Never Knew
021 I'll Never Smile Again
022 Sweet And Lovely
023 All The Way
024 Lullaby Of The Leaves
025 East Of The Sun (And West Of The Moon)
026 I Can't Get Started
027 Cocktails For Two
Medium 7
001 Bim Bam
002 Twinkle In Your Eye
003 Ten Little Women
004 Equator
005 Seven Out
006 I Kiss Your Hand Madame
007 Love Charm
008 The Love Nest
009 Put Your Mind At Ease
010 It's Better Than Nothing At All
011 Hold Out For Love
012 Good Gracious Baby
013 Handle With Care
014 Dig That Crazy Chick
015 Hey There
016 I Love Paris
017 On The Street Where You Live
018 Song From Moulin Rouge
019 Three Coins In The Fountain
020 Too Young
021 Rock-A-Bye Your Baby With A Dixie Melody
022 Love Is A Many Splendored Thing
023 Around The World
024 La Vie En Rose
025 All The Way
Medium 8
001 Bugs
002 Tennessee Waltz
003 French Poodle
004 Chantilly Lace
005 Up Jumped A Rabbit
006 Just Say I Love Her
007 Easy Rockin'
008 Night Train
009 Honey Love
010 Street Scene
011 Perdido
012 Kansas City
013 Love Of My Life (O Sole Mio)
014 Ol' Man River
015 Smilin' Billy
016 Skinny Minnie
017 Better Twist Now Baby
018 Twistin' The Blues
019 The Continental Twist
020 Tag That Twistin' Dolly
021 Come And Do The Twist
022 O Ma-Ma Twist
023 I Feel Good All Over
024 Later, Baby, Later
025 Ol' Man River


| | |
| --- | --- |
| manufacturer: | BEAR FAMILY |
Weiterführende Links zu "PRIMA, LOUIS - The Capitol Recordings 8-CD&40-PAGE-BOOK"
Bewertungen lesen, schreiben und diskutieren...
mehr
Kundenbewertungen für "PRIMA, LOUIS - The Capitol Recordings 8-CD&40-PAGE-BOOK"
Bewertung schreiben
Bewertungen werden nach Überprüfung freigeschaltet.