QUARANTEDS - World Wide Quarantine CD
2 nd release from the U.S. Psychobilly trio THE QUARANTEDS! Check them out, they kick some serious ass!! The Quaranteds was started in 2005 in Los Angeles. With the intention to be a punk rockabilly band. Some members left and that's...
QUASARS - The Fabulous Sound Of...CD
First release from this spanish Rockabilly trio! ROCK IS COMING TO TOWN WILL YOU MISS ME WHEN I'M GONE? SHE LOVES ME NOT B.A. DON'T STOP THE MAN WITH THE GUITAR HERE FOR YOU ROCKIN' GALS FROM MARS LEAVE MY HEART ALONE SHE FELLING FREE...
QUAKES-Live In Tokyo CD
TRACKLIST:Lonely Boy / You're Dead / Puttin' Out The Flame / One Of A Kind / Paint It Black / Strike Out King / Stick To Your Guns / All Messed Up / Psycho Attack / Fishnet Stockings / Hangman's Noose / Shook Shake / Shake Your Moneymaker
QUAKES - Negative Charge CD
Back in stock! This album was recorded from August 2008 to January 2009. The album incorporates everything that is The Quakes from hardcore psychobilly to 80's style neo-billy and everything in between. Tracklisting: Seven seas alone...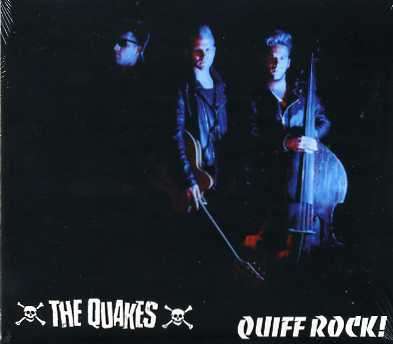 QUAKES - Quiff Rock CD
Re-release in a cool digi-pak of the 1996 album with 8 bonus tracks! 1.America 1998 2.Throw it all away 3.Go-get out 4.Animals 5.Rocker 6.Tokyo pretty boys 7.Rockabilly guy 8.Mexicali baby 9.My heads on the chopping block 10.Cool to be a...