SPEEDSWING - Achtung! Speedswing! CD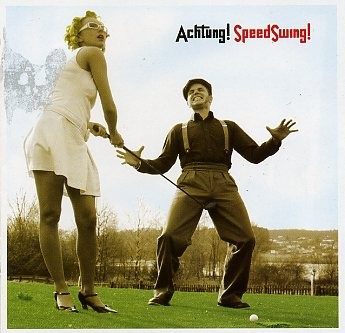 8,90 € *
10,50 € *
(15,24% gespart)
inkl. MwSt. zzgl. Versandkosten
Sofort versandfertig, Lieferzeit ca. 1-3 Werktage
2004 SPEEDSWING implanted their mix of swing, rock 'n' roll, Ska, punk and surf in the heart of...
mehr
Produktinformationen "SPEEDSWING - Achtung! Speedswing! CD"
2004 SPEEDSWING implanted their mix of swing, rock 'n' roll, Ska, punk and surf in the heart of many music enthusiasts around the Globe.
With their long looked for Full length debut 'ACHTUNG! SPEEDSWING ' the eight musicians from the Ruhrgebeat in Germany ban these elements once again to a record. Ten very varied songs are presented to the listener.

Did the band come up with the concept of "SpeedSwing" for their original, going forward styles four years ago via mini CD, we can now already talk about an established genre. It was amazing to hear of first parties with SpeedSwing in the program. Not only in the context of this Events some of the songs of the band advanced for real club hits.

The new album will seamlessly connect to the success of the first two publications.
On 'ACHTUNG! SPEEDSWING' the listener is taken another time on a musical journey back in time and find styles from different Decades to one style together, the "SpeedSwing."
This mixture Was made possible by the different musical backgrounds of the band members and the desire to merge it for their common way.

The term "SpeedSwing" is now used by bands as also by DJs and journalists so that we can talk of now of a new established Music style.

The first time there are also two German titles on this disc.
you could hear Ex-Alpha School Boy trumpeter Sebastian Diel in some songs as Guest musician.

'Achtung! SPEEDSWING 'will find again many friends in many different areas and styles, and will be an enrichment in any Music Enthusiasts' CD collection.

2004 implantierte SPEEDSWING Ihre Mischung aus Swing, Rock'n'Roll, Ska, Punk und Surf in das Herz vieler Musikbegeisterter rund um den Globus.
Mit Ihrem von vielen seit langem heiß ersehntes Full length Debut 'ACHTUNG! SPEEDSWING!' bannen die acht Musiker aus dem Ruhrgebiet diese Elemente erneut auf einen Tonträger. Zehn sehr abwechslungsreiche Songs werden dem Hörer präsentiert.
Hatte die Band den Begriff "SpeedSwing" für Ihren eigenwilligen, nach vorne gehenden Stilmix vor vier Jahren erstmals via Mini-CD ins Spiel gebracht, kann man mittlerweile schon von einem etablierten Genre sprechen. Man staunte nicht schlecht, als man von den ersten Partys hörte, die SpeedSwing im Programm hatten. Nicht nur im Rahmen dieser Events avancierten einige der Stücke dieser Band zu echten Clubhits.

1. Achtung SPEEDSWING*
2. My couch is magnetic
3. Broccolied
4. Her Daddy*
5. Dangerous Moonlight
6. Songschreiber Blues *
7. Girl from Tokyo
8. Freak Out!
9. The Chase
10. Night Out with the Boys*
| | |
| --- | --- |
| manufacturer: | SPEEDSWING REC. |
Weiterführende Links zu "SPEEDSWING - Achtung! Speedswing! CD"