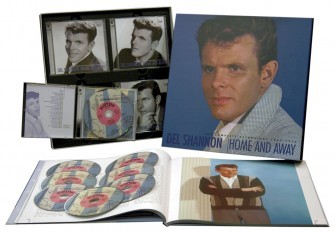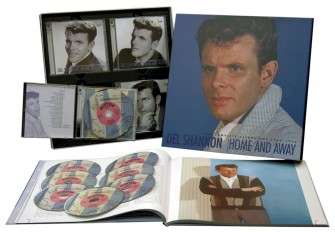 Home And Away 1960-70 8-CD Box & 120Page Book Del Shannon war einer der wichtigsten und...
mehr
Produktinformationen "SHANNON, DEL - Home And Away 8-CD Box + book!"
Home And Away 1960-70 8-CD Box & 120Page Book

Del Shannon war einer der wichtigsten und außerdem authentischsten US-Rock 'n' Roll-Stars der frühen 60er Jahre. Als einer der ganz wenigen Künstler feierte er seine Erfolge zur Zeit der scheinbar übermächtigen British Invasion - und entwickelte sich außerdem als Musiker und Profi entscheidend weiter. Inzwischen gilt er als 'Gottvater des Power Pop'. Seine erstaunliche Stimmlage - in Kombination mit dem von Max Crook entwickelten Musitron - ergab einen der eigenständigsten und darum sofort erkennbaren Sounds der gesamten Popmusik. Darüberhinaus komponierte Shannon diverse Klassiker jener Jahre und beschäftigte sich dabei textlich mit Themen, die charakteristisch für sein Werk wurden: Verlust, Entfremdung und das Verlassenwerden. Dies ist die weltweit erste, definitive Del-Shannon-Retrospektive mit restlos allen Aufnahmen aus Dels goldenem Jahrzehnt von 1960 bis 1970 - darunter unvergeßliche Hits wie Runaway, Hats Off To Larry, So Long Baby, Little Town Flirt, Two Kinds Of Teardrops, Handy Man, Do You Wanna Dance, Keep Searchin', Stranger In Town sowie From Me To You, die erste amerikanische Cover-Version eines Beatles-Songs. Wir präsentieren Shannons sämtliche Einspielungen für Bigtop, Ber-Lee, Amy, Liberty und ABC-Dunhill. Die sechs CDs mit Studioaufnahmen enthalten diverse bislang unveröffentlicht gebliebene Songs. Außerdem gibt es in der Box zwei CDs mit unveröffentlichten Demos. Zu dieser Sammlung gehören ebenfalls zahlreiche nie zuvor gezeigte Fotos aus Familienbesitz. Und Brian Young hat die erste umfassende Del-Shannon-Biographie für dieses außergewöhnliche Box Set geschrieben.


Medium 1
001 The Search (mono)
002 I'll Always Love You (mono)
003 Runaway (mono)
004 Jody
005 Hats Off To Larry
006 Don't Gild The Lily, Lily
007 I Wake Up Crying
008 Wide Wide World
009 Misery
010 Daydreams
011 His Latest Flame
012 The Prom
013 Lies
014 He Doesn't Care
015 So Long Baby
016 The Answer To Everything
017 Hey Little Girl
018 I Don't Care Anymore
019 Ginny In The Mirror
020 I Won't Be There
021 You Never Talked About Me
022 Cry Myself To Sleep
023 I'm Gonna Move On
024 The Swiss Maid
025 Dream Baby
026 She Thinks I Still Care
027 Runaround Sue
028 The Search
029 I'll Always Love You
030 The Search (stereo)
031 I'll Always Love You (stereo)
032 Runaway (stereo; different take)
033 Hey Little Girl (stereo; w/o overdubs)
Medium 2
001 Little Town Flirt
002 The Wamboo
003 Two Kind Of Teardrops
004 Kelly
005 Two Silhouettes
006 My Wild One
007 Happiness
008 Hey Baby
009 Go Away Little Girl
010 From Me To You
011 Sue's Gotta Be Mine
012 Now She's Gone
013 That's The Way Love Is
014 Time Of The Day
015 Torture (version No.1)
016 Nothin'
017 Froggy
018 Pursuit
019 Mary Jane
020 Stains On My Letter
021 I'll Be Lonely Tomorrow
022 I Can't Fool Around Anymore
023 Handy Man
024 Give Her Lots Of Lovin'
025 Sorry (I Ran All The Way Home)
026 Memphis
027 Ruby Baby
028 Crying
029 World Without You
030 Twist And Shout
031 Torture (version No.2) (instrumental)
Medium 3
001 Do You Wanna Dance (mono)
002 This Is All I Have To Give
003 Keep Searchin' (We'll Follow The Sun)
004 Broken Promises
005 Stranger In Town
006 Over You
007 Your Cheatin' Heart
008 Kaw-Liga
009 I Can't Help It
010 Honky Tonk Blues
011 I Heard That Lonesome Whistle
012 You Win Again
013 Ramblin' Man
014 Hey Good Lookin'
015 Long Gone Lonesome Blues
016 Weary Blues
017 I'm So Lonesome I Could Cry
018 Cold Cold Heart
019 Wrong Day, Wrong Way
020 Table Reserved For The Blues
021 Pardon Me I Guess I'm In The Way
022 Queen Of The Honky Tonks
023 Break Up
024 Why Don't You Tell Him
025 She Cried
026 Needles And Pins
027 Do You Wanna Dance (stereo)
Medium 4
001 I Go To Pieces
002 I'm Gonna Be Strong
003 Rag Doll
004 Running Scared
005 Move It On Over
006 She Still Remembers Tony
007 I Can't Believe My Ears
008 I Wish I Wasn't Me Tonight
009 The Big Hurt
010 I've Got It Bad (aka Never Thought I Could)
011 Show Me
012 For A Little While
013 Hey! Little Star
014 When You Walk In The Room
015 Oh, Pretty Woman
016 Everybody Loves A Clown
017 It's Too Late
018 Where The Action Is
019 Lightning Strikes
020 The Cheater
021 Kicks
022 Under My Thumb
023 She Was Mine
024 Show Me
025 Under My Thumb
Medium 5
001 Red Rubber Ball
002 Pied Piper
003 Sunny
004 Time Won't Let Me
005 What Makes You Run
006 I Can't Be True
007 Summer In The City
008 Where Were You When I Needed You
009 The Joker Went Wild
010 She
011 Stand Up
012 The House Where Nobody Lives
013 It's My Feeling
014 Mind Over Matter
015 Silently
016 Cut And Come Again
017 My Love Has Gone
018 Led Along
019 Life Is But Nothing
020 Easy To Say
021 Friendly With You
022 He Cheated
023 Runaway '67
024 Thinkin' It Over
025 The Letter
026 River Cool
027 Colour Flashing Hair
028 Conquer
Medium 6
001 New Orleans (Mardi Gras)
002 Be My Friend
003 Silver Birch
004 I Think I Love You
005 Gemini
006 Runnin' On Back
007 Been So Long
008 Magical Musical Box
009 Something To Write Home About
010 Raindrops
011 You Don't Love Me
012 Leavin' You Behind
013 Never Be The Same
014 Comin Back To Me
015 Sweet Mary Lou
016 Colorado Rain
017 How Can I Tell You?
018 Southern Part Of Town
019 She's Got Soul
020 Sister Isabelle
021 Good Love
022 Sun Don't Shine (Drip Drop)
023 Anita (I'm Walking On Fire)
024 Reason To Believe
025 She Even Woke Me Up To Say Goodbye
026 He Cheated (overdubbed)
027 Raindrops (with sound effects)
Medium 7
001 Little Oscar
002 Living In Misery
003 Angel Of Love
004 Could Be, Can't Tell, Don't Know
005 What's The Use (In Trying)
006 This Feeling Called Love
007 This Is All I Have To Give (Everything I Have
008 Is Yours)
009 Happiness
010 She's Your Girl
011 One More Time
012 Face Of An Angel
013 Johnny's Got The Blues
014 I Fell In Love With You
015 Condemned To Die (version No.1)
016 I Guess I'll Never Really Know
017 A Girl Of My Own
018 Time Marches On
019 Daydreams
020 Wishing On A Star (Counting Stars At Night)
021 Honey Bee (version No.1)
022 Lies
023 He Doesn't Care
024 The Prom
025 Honey Bee (version No.2)
026 Condemned To Die (version No.2)
027 I'm Gonna Sit Right Down And Cry Over You
028 Runaway
029 Jody
030 One Kiss
031 Pepsi Commercial No.1
032 Pepsi Commercial No.2
033 Pepsi Commercial No.3
034 Pepsi Commercial No.4
Medium 8
001 The Things She Said
002 I Can't Let You Go
003 Just You
004 If She Were My Girl
005 For A Little While
006 This Feeling Called Love
007 It's Funny
008 She
009 Where Is She
010 I've Got Eyes For You
011 Did I See What I Think I Saw
012 Makin's Of A Heartache
013 I'm Going Through It Too (Table Reserved For
014 The Blues)
015 Pardon Me (I Guess I'm In The Way)
016 Pardon Me
017 The Jury
018 Deep In The Valley
019 I Never Caught Her Name
020 Thunder And Lightning
021 The Wedding (There Goes Billy)
022 Rest Your Mind
023 Lorrayne


| | |
| --- | --- |
| manufacturer: | BEAR FAMILY |
Weiterführende Links zu "SHANNON, DEL - Home And Away 8-CD Box + book!"
Bewertungen lesen, schreiben und diskutieren...
mehr
Kundenbewertungen für "SHANNON, DEL - Home And Away 8-CD Box + book!"
Bewertung schreiben
Bewertungen werden nach Überprüfung freigeschaltet.