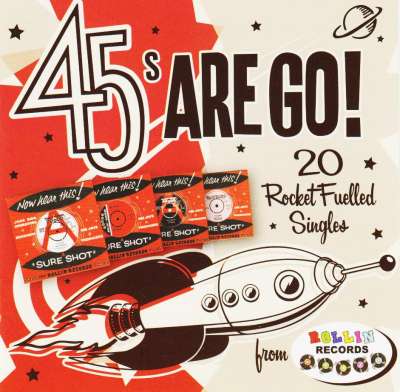 V.a. - 45s Are Go! CD
45s Are Go! 20 Rocket Fuelled Singles!! Paul Paterson – I Got It Hard Hi-Voltage – I Gotta Gun The Excellos – I Got Love If You Want It The Frantix – Duck Run The Excellos – Jekyll And Hyde Boz Boorer – She's My Little Woman The Playboys...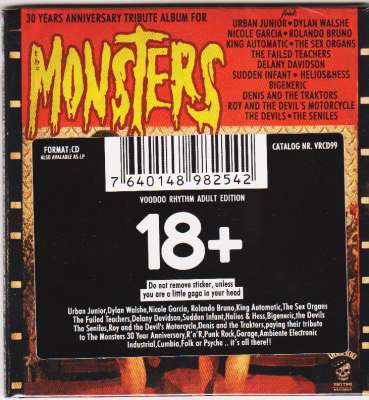 V.A. - 30 Years Anniversary Tribute Album For...
THE MONSTERS '30 Years Anniversary Tribute Album for the Monsters' FRIENDS OF THE MONSTERS PAYING THEIR TRIBUT TO 30 YEARS SWIMMING AGAINST THE MAINSTREAM, THIS COMPILATIOBN SHOWS YOU MANY DIFFEREND FACES OF TODAYS UNDERGRUND MUSIC WITH...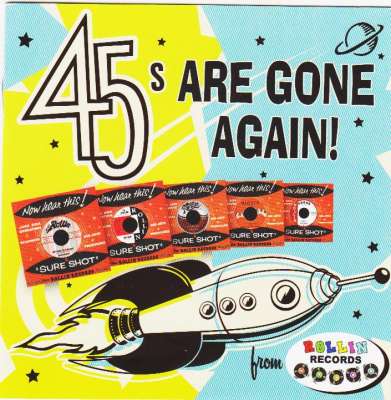 V.A. - 45s Are Gone Again CD
Great compilation from the fantastic ROLLIN' RECORDS label! 1 Dollar Bill – Shake Your Hips 2 The Excellos – Sadie Kong 3 Slim Slip & the Sliders – Pay The Price 4 Danny 'O' & the Penningtons – Stompertime 5 Andy Wren – The Outer Zone 6...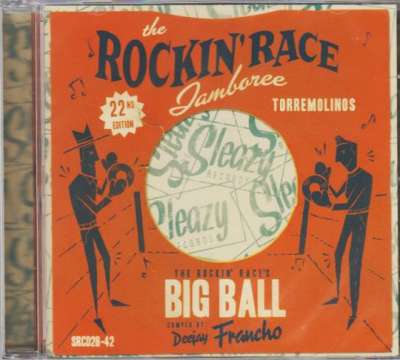 V.A. - Rockin Race Jamboree 2016 CD
V.A. - Rockin Race Jamboree 2016 CD Tracks: Jimmy McCracklin - The Wobble / Larry Williams - Lawdy Mama / Bill Bryan and The Goldtones - Rockin' Chair / The Black Dynamites - Brush Those Tears / Little Denny & The Torkeys - The Flying...
V.A. - 7 x CD
Special offer, valid till 3rd of September 2015! normal shop price €77,40, now just €29,90! DILLBERRIEZZ - Same CD RICH TASTE - Same CD A SAILOR'S GRAVE - Set A Fire In Your Heart CD LOUDERDALES - Songs Of No Return CD LOTA RED - Close...
V.A. - 5 x CD + DVD
Special offer, valid till 3rd of September 2015! normal shop price €72,90, now just €34,90 ! SIR PSYKO AND HIS MONSTERS DVD BEAT DEVILS - Another Dream CD MAD DOG COLE - Son Of Satan CD LUNATICS - Bilingual CD DEMENTED ARE GO - Live At...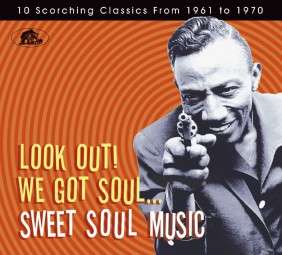 V.A. - Look Out! We Got Soul...Sweet Sould...
Limited edition low budget sampler, the perfect introduction to our 'Sweet Soul Music' series! Ten fabulous soul tracks from 1961 to 1970, in chronological order. DigiPac with full-color booklet and photos. ' Here comes the eagerly...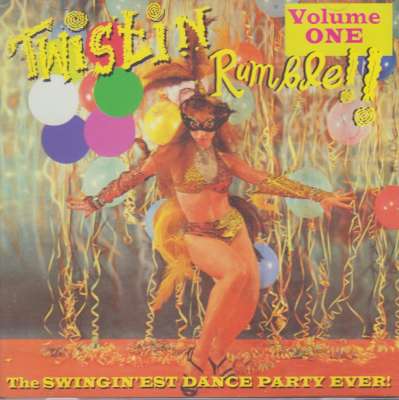 V.A. - Twistin Rumble Vol.1 CD
Tracklist: 1. The Upsetters - UPSETTER 2. Johnny & The Debonairs - THE BONECRACKER 3. Terry & The Topics - WHERE'S MY PUSSYCAT 4. Aztecs - DAMELO BABY 5. Jocko - A LITTLE BIT OF EVERYTHING 6. Julian Covey - SWEET BACON 7. Quarter Notes -...
V.A. - Ho-Dad Hootenanny Too CD
MID-60s FRAT-ROCKIN' GARAGE BLOWOUT! With liner notes, band photos, label scans. 32 cuts in supreme fidelity! Track listing: THE LOVING MACHINES - THE LOVING MACHINE THE STRATACASTERS - REELIN' AND ROCKIN' THE PASTELS - WHY DONT YOU LOVE...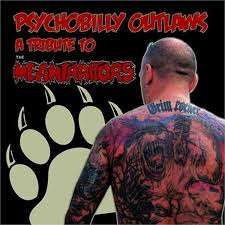 V.A. - Psychobilly Outlaws CD
A Tribute To The Meantraitors Japanese pressing with 30 tracks from: Stockmen, Stressor, Beat Devils, Evil Jockers, Hellstompers, Magnetix, Bombat Belus, Dice For Lights, Coffin Wheels, Mystification, Mosquito, Squidbillys, Grims, Mental...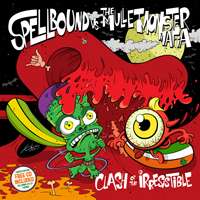 SPELLBOUND vs MULLET MONSTER MAFIA - Clash Of...CD
MULLET MONSTER MAFIA vs SPELLBOUND: CLASH OF THE IRRESTIBLE CD CD version in normal plastic CD box !The CD has 1 bonus song!! The Mullet Monster Maffia vs. Spellbound!! Ireland's psychobilly trailblazers SPELLBOUND have rocked three...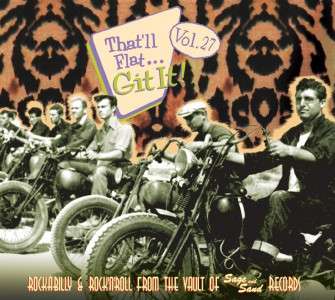 V.A. - That'll Flat Git It (Sage & Sand) Vol.27 CD
Vol.27, That'll Flat Git It (Sage & Sand) 1-CD Digipak (4-seitig) mit 60-seitigem Booklet. 34 Einzeltitel, Spieldauer ca. 74 Minuten. Lange überfällige Rückschau auf ein vergessenes Westcoast-Label! Mit Rockabilly-Klassikern von Whitey...