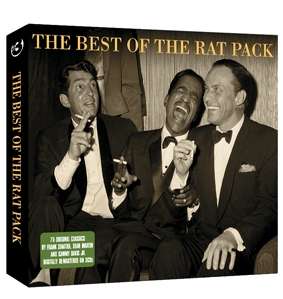 CD 1 1. Come Fly With Me Frank Sinatra 2. Volare Dean Martin 3. I Ain't Got...
mehr
Produktinformationen "V.A. - The Best Of The Rat Pack 3 x CD"
CD 1

1. Come Fly With Me
Frank Sinatra
2. Volare
Dean Martin
3. I Ain't Got Nobody
Sammy Davis Jr.
4. Night And Day
Frank Sinatra
5. On An Evening In Roma (Sott'er Celo De Roma)
Dean Martin
6. Be-Bop The Beguine
Sammy Davis Jr.
7. In The Wee Small Hours Of The Morning
Frank Sinatra
8. Return To Me (Ritorna A Me)
Dean Martin
9. Can't You See I've Got The Blues
Sammy Davis Jr.
10. I Couldn't Sleep A Wink Last Night
Frank Sinatra
11. Buona Sera
Dean Martin
12. Something's Gotta Give
Sammy Davis Jr.
13. Autumn In New York
Frank Sinatra
14. I Can't Give You Anything But Love
Dean Martin
15. On The Road To Mandalay
Frank Sinatra
16. Rio Bravo
Dean Martin
17. Dedicated To You
Sammy Davis Jr.
18. Stars Fell On Alabama
Frank Sinatra
19. The Man Who Plays The Mandolino
Dean Martin
20. Azure
Sammy Davis Jr.
21. P.S. I Love You
Frank Sinatra
22. The Tricche Tracche (The Tree-Kay Trah-Kay)
Dean Martin
23. What Can I Do?
Sammy Davis Jr
24. Nice Work If You Can Get It
Frank Sinatra
25. Promise Her Anything (But Give Her Love)
Dean Martin

CD 2

That Old Black Magic
Sammy Davis Jr.
2. I Get A Kick Out Of You
Frank Sinatra
3. Memories Are Made Of This
Dean Martin
4. Easy To Love
Sammy Davis Jr.
5. Let Me Go Lover
Dean Martin
6. You Make Me Feel So Young
Frank Sinatra
7. Love And Marriage
Frank Sinatra
8. Standing On The Corner
Dean Martin
9. Just One More Chance
Dean Martin
10. It's All Right With Me
Sammy Davis Jr
11. The Birth Of The Blues
Sammy Davis Jr.
12 A Foggy Day (In London Town)
Frank Sinatra
13. Young And Foolish
Dean Martin
14. Lonesome Road
Sammy Davis Jr.
15. Spoken For
Sammy Davis Jr.
16. Old Devil Moon
Frank Sinatra
17. Me 'n' You 'n' The Moon
Dean Martin
18. Frankie And Johnnie
Sammy Davis Jr.
19. Makin' Whoopee
Frank Sinatra
20. You Brought A New Kind Of Love To Me
Frank Sinatra
21. Who's Sorry Now?
Dean Martin
22. When You're Smiling
Dean Martin
23. How About You?
Frank Sinatra
24. Glad To Be Unhappy
Sammy Davis Jr.
25. Because Of You
Sammy Davis Jr.

CD 3

1. That's Amore
Dean Martin
2. Too Close For Comfort
Sammy Davis Jr.
3. I've Got You Under My Skin
Frank Sinatra
4. Someone To Watch Over Me
Frank Sinatra
5. Kiss
Dean Martin
6. Sway
Dean Martin
7. Something's Gotta Give
Sammy Davis Jr.
8. September Song
Sammy Davis Jr.
9. Pennies From Heaven
Frank Sinatra
10.You Belong To Me
Dean Martin
11.Hey There!
Sammy Davis Jr.
12.Too Marvellous For Words
Frank Sinatra
13.Innamorata
Dean Martin
14.Mambo Italiano
Dean Martin
15.Love Me Or Leave Me
Sammy Davis Jr.
16.All Of You
Sammy Davis Jr.
17.South Of The Border
Frank Sinatra
18.It Happened In Monterey
Frank Sinatra
19.The Naughty Lady Of Shady Lane
Dean Martin
20.Money Burns A Hole In My Pocket
Dean Martin
21.My Funny Valentine
Sammy Davis Jr.
22.And This Is My Beloved
Sammy Davis Jr.
23.You're Getting To Be A Habit With Me
Frank Sinatra
24.Once In Love With Amy
Dean Martin
25.Bye, Bye Blackbird
Dean Martin

Weiterführende Links zu "V.A. - The Best Of The Rat Pack 3 x CD"
Bewertungen lesen, schreiben und diskutieren...
mehr
Kundenbewertungen für "V.A. - The Best Of The Rat Pack 3 x CD"
Bewertung schreiben
Bewertungen werden nach Überprüfung freigeschaltet.