V.A. - Sun Country Box 1950-1959 (6-CD & 148-Page Book)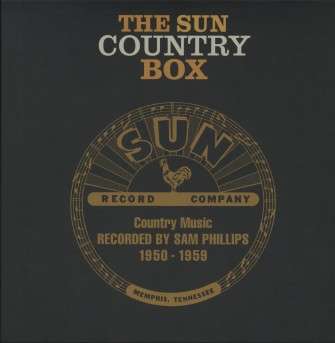 Sun Country Box 1950-1959 (6-CD & 148-Page Bo 6-CD Box (LP-Format) mit 148-seitigem...
mehr
Produktinformationen "V.A. - Sun Country Box 1950-1959 (6-CD & 148-Page Book)"
Sun Country Box 1950-1959 (6-CD & 148-Page Bo
6-CD Box (LP-Format) mit 148-seitigem gebundenem Buch, 208 Einzeltitel, Gesamtspielzeit ca. 8 Stunden 50 Minuten.

60 Jahre SUN RECORDS, 38 Jahre BEAR FAMILY In der Zeit von 1950 bis 1960 entdeckte und produzierte Sam Phillips, Gründer von SUN RECORDS, B.B. King, Howlin' Wolf, Ike Turner, Elvis Presley, Johnny Cash, Carl Perkins, Jerry Lee Lewis, Charlie Rich und Roy Orbison - Künstler, die die Geschichte der Popmusik veränderten. Zu den anderen Künstlern, die ihre ersten Aufnahmen bei SUN machten, gehören Rufus Thomas, Bobby Bland, Junior Parker, Little Milton, Conway Twitty, Charley Pride und viele andere!

1952, nachdem er mit Jackie Brenston's 'Rocket 88' einen der größten Hits der Vor-Rock 'n' Roll Ära produziert hatte, startete Sam Phillips SUN RECORDS mit einer einzigen lokalen Veröffentlichung und ließ anschließend das Label für ein Jahr ruhen. 1953 dann wurde das SUN-Label wiederbelebt und veröffentlichte Singles bis zur Schließung im Jahr 1968.

Und jetzt, aus Anlass des 60. Jubiläums des SUN-Labels, bringt BEAR FAMILY ein Boxen-Trio mit dem Fokus auf drei Genres heraus.

Die COUNTRY BOX macht den Anfang. BEAR FAMILY veröffentlichte die Originalbox, 'The Sun Country Years' im Jahr 1986 - und jetzt ist sie wieder erhältlich. Nur wenige wußten es, aber die ersten Aufnahmen von Sam Phillips nach der Eröffnung seines Studios waren Country, nicht Blues. Jetzt wird die Geschichte seiner Beziehung zur Country-Musik von 1950 bis 1959 vollständig erzählt. Johnny Cash, Jerry Lee Lewis und natürlich Carl Perkins, sie alle tauchen auf, aber im Kern dreht sich die Geschichte um Künstler wie Ernie Chaffin, Slim Rhodes, Charlie Feathers, Warren Smith und viele andere, die es letztendlich nicht schafften, jedoch fabelhafte und unterschätzte Musik gemacht hatten. Hier wird nicht gegeizt: bestechende Tonqualität, neu entdeckte Aufnahmen und neue bisher unentdeckte Fotos machen diese Box zu einer unentbehrlichen Ergänzung zur Blues Box.

Glauben Sie bloß nicht, die Geschichte von SUN RECORDS wäre vollständig erzählt, bevor Sie nicht ein unbezahlbares Klangschnipsel gehört haben, bei dem es sich vielleicht um SUN Nr.176 handeln könnte - die einzige SUN-Aufnahme, die vorher noch keiner zu hören bekam, und die nicht mal auf dem Zettel notiert wurde, auf dem sich Sam Phillips sein geringes Einkommen für das Jahr 1952 ausrechnete - oder hören Sie den afro-amerikanischen schwulen Nachtclubsänger Rudi Richardson, wie er Rock 'n' Roll singt! Dies ist die Geschichte des meistgelobten Labels aller Zeiten, dokumentiert wie nur BEAR FAMILY es kann!

Dies ist die Geschichte von SUN RECORDS - zehn Jahre, die die Popkultur veränderten


Medium 1
001 The Slim Rhodes Show WMC Radio Extracts Rhodes, Slim
002 Skunk Hollow Boogie Rhodes, Slim
003 Save A Little Love For Me Rhodes, Slim
004 Memphis Bounce Rhodes, Slim
005 Sixty Days Rhodes, Slim
006 Hotfood Rag Rhodes, Slim
007 Time Marches On Rhodes, Slim
008 Ozark Boogie Rhodes, Slim
009 Red, White And Blue Rhodes, Slim
010 Don't Believe Rhodes, Slim
011 Uncertain Love Rhodes, Slim
012 House Of Sin Rhodes, Slim
013 Are You Ashamed Of Me Rhodes, Slim
014 Bad Girl Rhodes, Slim
015 Gonna Romp And Stomp Rhodes, Slim
016 Take And Give Rhodes, Slim
017 Do What I Do Rhodes, Slim
018 I've Never Been So Blue Rhodes, Slim
019 Swamp Root Floyd, Harmonica Frank
020 Goin' Away Walkin' Floyd, Harmonica Frank
021 Step It Up And Go Floyd, Harmonica Frank
022 Howlin' Tomcat (1) Floyd, Harmonica Frank
023 She Done Moved Floyd, Harmonica Frank
024 Howlin' Tomcat (2) Floyd, Harmonica Frank
025 The Great Medical Menagerist Floyd, Harmonica Frank
026 Rockin' Chair Daddy Floyd, Harmonica Frank
027 How Can It Be Price, Bob
028 Sicks And Stones Price, Bob
029 Tennessee Drag Hadley, Red
030 If I Had As Much Money (As I Had Time) Hadley, Red
031 Boogie Ramble Hadley, Red
032 Blues Waltz Ripley Cotton Choppers
033 Silver Bell Ripley Cotton Choppers
034 Roses And Sunshine Ripley Cotton Choppers
Medium 2
001 In The Dark Peterson, Earl
002 Boogie Blues Peterson, Earl
003 Nothing To Lose But My Heart Peterson, Earl
004 I'm Leaving My Heart Up To You Peterson, Earl
005 Make Room In The Lifeboat For Me Seratt, Howard
006 Jesus Means All To Me Seratt, Howard
007 Troublesome Waters Seratt, Howard
008 I Must Be Saved Seratt, Howard
009 Now She Cares No More For Me Poindexter, Doug
010 My Kind Of Carryin' On Poindexter, Doug
011 How Do You Think I Feel Moore, Scotty & Presley, Elvis
012 Instrumental Medley Perkins, Carl
013 Honky Tonk Gal Perkins, Carl
014 Gone Gone Gone Perkins, Carl
015 Dixie Bop Perkins, Carl
016 Sure To Fall Perkins, Carl
017 Tennessee Perkins, Carl
018 Everybody's Tryin' To Be My Baby Perkins, Carl
019 Forever Yours Perkins, Carl
020 Breakin' My Heart Perkins, Carl
021 Try My Heart Out Perkins, Carl
022 Drinkin' Wine Spo Dee O Dee Yelvington, Malcolm
023 Just Rollin' Along Yelvington, Malcolm
024 Lonely Sweetheart Taylor, Bill
025 Split Personality Taylor, Bill & Smokey Joe
026 Hula Bop Baugh, Smokey Joe
027 She's Woman Baugh, Smokey Joe
028 The Midnight Ride Of Paul Revere Baugh, Smokey Joe
029 Listen To Me Baugh, Smokey Joe
030 The Signifying Monkey Baugh, Smokey Joe
031 We're Getting Closer To Being Apart Kesler, Stan
Medium 3
001 The Girl With Green Eyes Bernero, Johnny
002 Yakety Yak Yelvington, Malcolm
003 Way Down Blues Yelvington, Malcolm
004 Rockin' With My Baby Yelvington, Malcolm
005 It's Me Baby Yelvington, Malcolm
006 Goodbye Marie Yelvington, Malcolm
007 Mr. Blues Yelvington, Malcolm
008 First And Last Love Yelvington, Malcolm
009 Did I Ask You To Stay Yelvington, Malcolm
010 Trumpet Yelvington, Malcolm
011 Goin' To Sea Yelvington, Malcolm
012 Runnin' Around Feathers, Charlie
013 I've Been Deceived (1) Feathers, Charlie
014 Peepin' Eyes Feathers, Charlie
015 I've Been Deceived (2) Feathers, Charlie
016 We're Getting Closer To Being Apart Feathers, Charlie
017 Defrost Your Heart Feathers, Charlie
018 Wedding Gown Of White Feathers, Charlie
019 Bottle To The Baby Feathers, Charlie
020 Man In Love Feathers, Charlie
021 How Long Wimberley, Maggie Sue
022 Daydreams Come True Wimberley, Maggie Sue
023 No More Haggett, Jimmy
024 They Call Our Love A Sin Haggett, Jimmy
025 They Who Condemn Wimberley, Maggie Sue
026 Call Me Anything Wimberley, Maggie Sue
027 Rock And Roll Cinnamon Tree Wimberley, Maggie Sue
028 How Come You To Me Haggett, Jimmy
029 Rhythm Called Rock And Roll Haggett, Jimmy
030 Rock Me Baby Haggett, Jimmy
031 Rabbit Action Haggett, Jimmy
032 Someday You Will Pay Miller Sisters
033 You Didn't Think I Would Miller Sisters
034 Look What You've Done Miller Sisters
035 I Know I Can't Forget You Miller Sisters
036 There's No Right Way Miller Sisters
Medium 4
001 You Can Tell Me Miller Sisters
002 Woody Miller Sisters
003 Finders Keepers Miller Sisters
004 My Isle Of Golden Dreams Miller Sisters
005 Ten Cats Down Miller Sisters
006 It Only Hurts For A Little While Miller Sisters
007 Got You On My Mind Miller Sisters
008 Chains Of Love Miller Sisters
009 I Can't Find Time To Pray Miller Sisters & Cast King
010 When You Stop Loving Me Cast King
011 Like A Wees In A Garden Cast King
012 Satisfied With Me Cast King
013 Please Believe Me Cast King
014 Round And Round Cast King
015 Destiny Cast King
016 Baby Doll Cast King
017 Rock 'n' Roll Ruby Smith, Warren
018 I'd Rather Be Safe Than Sorry Smith, Warren
019 Black Jack David Smith, Warren
020 Ubangi Stomp Smith, Warren
021 Tonight Will Be The Last Night Smith, Warren
022 Tell Me Who Smith, Warren
023 I Couldn't Take TheChance Smith, Warren
024 The Darkest Cloud Smith, Warren
025 So Long I'm Gone (1) Smith, Warren
026 So Long I'm Gone (2) Smith, Warren
027 So Long I'm Gone (3) Smith, Warren
028 Who Took My Baby Smith, Warren
029 Miss Froggie Smith, Warren
030 Stop The World Smith, Warren
031 Red Cadillac And A Black Moustache Smith, Warren
032 Got Love If You Want It Smith, Warren
033 I Fell In Love Smith, Warren
034 Hank Snow Medley Smith, Warren
035 Do I Love You Smith, Warren
036 I Like Your Kinda Love Smith, Warren
Medium 5
001 Uranium Rock Smith, Warren
002 Goodbye Mr. Love( 1) Smith, Warren
003 Sweet Sweet Girl Smith, Warren
004 Dear John Smith, Warren
005 Goodbye Mr. Love (2) Smith, Warren
006 Feelin' Low Chaffin, Ernie
007 Lonesome For My Baby Chaffin, Ernie
008 I'm Lonesome Chaffin, Ernie
009 Laughin' And Jokin' Chaffin, Ernie
010 Linda Chaffin, Ernie
011 Heart Of Me Chaffin, Ernie
012 I'll Walk Alone Chaffin, Ernie
013 Be Faithful To Me Chaffin, Ernie
014 Got You On My Mind Chaffin, Ernie
015 Born To Lose Chaffin, Ernie
016 Nothing Can Change My Love... Chaffin, Ernie
017 Miracle Of You Chaffin, Ernie
018 Please Don't Ever Leave Me Chaffin, Ernie
019 Easy To Love Self, Mack
020 Goin' Crazy Self, Mack
021 Everyday Self, Mack
022 Easy To Love (2) Self, Mack
023 Mad At You Self, Mack
024 Vibrate Self, Mack
025 Little One Self, Mack
026 Lovin' Memories Self, Mack
027 Willie Brown Self, Mack
028 I'm Feelin' Sorry (1) Lewis, Jerry Lee
029 I'm Feelin' Sorry (2) Lewis, Jerry Lee
030 I'm The Guilty One Lewis, Jerry Lee
031 Jump Right Out Of This Jukebox (1) Wheeler, Onie
032 Walkin' Shoes Wheeler, Onie
033 That's All Wheeler, Onie
034 Tell 'Em Of Wheeler, Onie
035 Jump Right Out Of This Jukebox (2) Wheeler, Onie
036 Bonaparte's Retreat Wheeler, Onie
Medium 6
001 Train Of Love Cash, Johnny
002 Home Of The Blues Cash, Johnny
003 Ballad Of A Broken Heart Blake, Tommy
004 Story Of A Broken Heart Cash, Johnny
005 Ballad Of A Teenage Queen Clement, Jack
006 Ballad Of A Teenage Queen Cash, Johnny
007 Quinch My Thirst Clement, Jack
008 Ten Years Clement, Jack
009 Your Lover Boy Clement, Jack
010 The Black Haired Man Clement, Jack
011 Wrong Clement, Jack
012 Alimony Blues Steele, Gene
013 Daisy Bread Boogie Steele, Gene
014 Try Doin' Right Mississippi Slim
015 Fallen Angel Hardrock Gunter
016 Gonna Dance All Night Hardrock Gunter
017 Jukebox Help Me Find My Baby Rhythm Rockers
018 Fiddle Bop Rhythm Rockers
019 Honky Tonk Girl Ballmann, Wanda
020 I'm Gonna Find Her Dixieland Drifters
021 Maybe Tomorrow Dixieland Drifters
022 Honky Toonk Gal Perkins, Carl
023 Perkins Wiggle Perkins, Carl
024 Y.O.U. Perkins, Carl
025 Folsom Prison Blues Cash, Johnny
026 If The Good Lord's Willing Cash, Johnny
027 I Was There When It Happened Cash, Johnny
028 Goodnight Irene Lewis, Jerry Lee
029 Ole PalOf Yesterday Lewis, Jerry Lee
030 Fools Like Me Lewis, Jerry Lee
031 I'll Sail My Ship Alone Lewis, Jerry Lee
032 Settin' The Woods On Fire Lewis, Jerry Lee
033 So Ashamed Feather, Charlie
034 Honky Tonk Kind Feather, Charlie
035 Frankie And Johnny Feather, Charlie


| | |
| --- | --- |
| manufacturer: | BEAR FAMILY |
Weiterführende Links zu "V.A. - Sun Country Box 1950-1959 (6-CD & 148-Page Book)"