MAD DOG COLE - Son Of Satan CD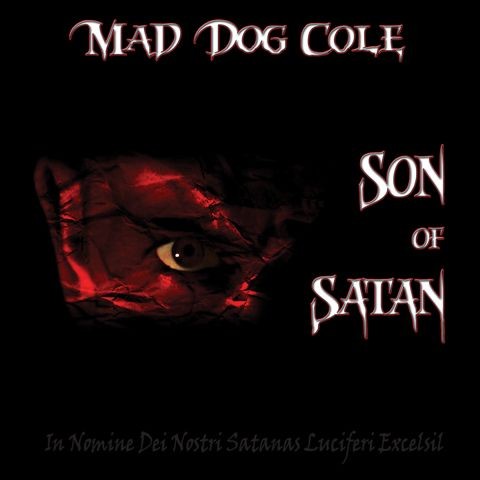 Track listing: 01. Waster 02. The Darkness 03. Road To Carpathia 04. Son Of...
mehr
Produktinformationen "MAD DOG COLE - Son Of Satan CD"
Track listing:

01. Waster
02. The Darkness
03. Road To Carpathia
04. Son Of Satan
05. Better Off Dead
06. High Heels
07. Too Much
08. Whirlwind
09. Bad Things
10. Did I Make You Scared?
11. It's My Face She Sees
12. Captain Black
The album has reached # 1 of the U.K. Psychobilly charts now!!!
PSYCHOBILLY CHART
1 - Mad Dog Cole : Son Of Satan
2 - Hancox : Vegas Lights
3 - v.a. : Dragged From The Wreckage Of The Klub Foot
4 - The Meteors : Doing The Lord's Work
5 - Howling Wolfmen : Asylum Rock
6 - Bloodsucking Zombies From Outer Space - Anatomy Of The Dead
7 - P.O.X. : Insanity Is No Disgrace
8 - The Peacocks - Don't Ask
9 - Mad Sin : 25 Years Still Mad
10 - Black Rose Phantoms - Among The Dead





MAD DOG COLE ' Son Of Satan'

by wildhank

After one of the most surprising comebacks in recent Psychobilly history back in 2007, all things MadDog Cole have been quite quiet for the last five-or-so years. Gossiped to be lost again beyond the Psychobilly horizon and rumoured straying from the path of rockin' (dis)grace, it's now safe to say that the former Krewmen lead singer just took his time to work on the material for his follow-up release and to recruit a line up that works best with him.

Son Of Satan consists of twelve brand new tunes recorded at Western Star Studio, with Alan Wilson himself responsible for the perfect production and the final touches of the sound. The whole affair impresses with an ever-present straightforward Psychobilly feel on the full album, solid variations of the theme and healthy changes in speed with arguably one of the most remarkable voices of the genre always in the thick of the action.

Saying all that this is rather the lost album of the McMillan/Cole era than a 21st century product of traditional Psychobilly tones, spiced up with a fat rhythm section that now also features Mark's former old band mate Dominic Parr back on drums, decent sharp and twangy guitaring by newly acquired Lee Gorrïnge, catchy melodies and a super tight sound all over the place.

Songs like The Darkness, Son Of Satan, Better Off Dead, Did I Make You Scared and Captain Black cement that this Crazy Love release is not only an essential part in this year's Psychobilly panorama but a clear message to all them disbelievers that "you can be sure... that the mental MadDog's back!".



REVIEW O'PREZ / IRLAND

The much anticipated sophomore album by ex-Krewmen warbler Mad Dog Cole is almost upon us. It will be out on Crazy Love Records in late October/early November of this year. A bit of a controversial release this one as our MDC seems a bit partial to a bit of controversy. So what can you expect? Well, Guido over at Crazy Love was kind enough to send me a pre-release review copy because, well, as you all know by now…I'm great. Thus, here are my first impressions of Mad Dog Cole's Son Of Satan album.

It must be hard for lead singers to try and shake the shackles of a band that brought them to prominence and go it alone. After all, it is the voice that is synonymous with a band's sound. With that said though, given The Krewmen's somewhat legendary status within certain facets of the psychobilly scene I'm not sure MDC would want those shackles shaken. Whether he does or not makes no difference because this album has that Krewmen sound stamped all over it. It's 99% up-tempo straight forward psychobilly but with enough changes in gear (and just in the nick of time in parts) to stop it getting too samey. Instrumentally it's more like McMillan-era Krewmen but melodically and obviously vocally there's no denying that Cole cut his teeth on the first three Krewmen albums as this sounds very similar. The big difference though between those early Krewmen albums and this, MDC's second solo outing, is the crystal clear production. Knob-twiddler extraordinaire Alan Wilson can twiddle my knob any time. By virtue of the fact that Mr. Wilson was overseeing the production there's also a hint of that Sharks Recreational Killer-era sound creeping in in places. There's perhaps a twist of Nekromantix inspired guitar work on one or two songs also. Personally I prefer the mid-paced songs as they give MDC more chance to exercise his vocal range.

Some people were a bit iffy about this release and what its aural contents would include. Somewhere along the line I think an inner-fear began to grow amongst the psychobilly brigade that MDC had crossed over to the other side; the other side being Goth in this case. Perhaps this was partly due to the fact that the first draft of the artwork for this album (done by me…and much better than the art used instead of it…there! I've said it!) depicted MDC and his brethren in questionable attire. But fear not, there'll be none of that Goth debauchery here. Fans of that classic Krewmen/Mad Dog Cole sound will love it.

The O'Prez


Weiterführende Links zu "MAD DOG COLE - Son Of Satan CD"