Cookie-Einstellungen
Diese Website benutzt Cookies, die für den technischen Betrieb der Website erforderlich sind und stets gesetzt werden. Andere Cookies, die den Komfort bei Benutzung dieser Website erhöhen, der Direktwerbung dienen oder die Interaktion mit anderen Websites und sozialen Netzwerken vereinfachen sollen, werden nur mit Ihrer Zustimmung gesetzt.
Diese Cookies sind für die Grundfunktionen des Shops notwendig.
"Alle Cookies ablehnen" Cookie
"Alle Cookies annehmen" Cookie
Kundenspezifisches Caching
Diese Cookies werden genutzt um das Einkaufserlebnis noch ansprechender zu gestalten, beispielsweise für die Wiedererkennung des Besuchers.
GODDAMN GALLOWS - 7 Devils 2xLP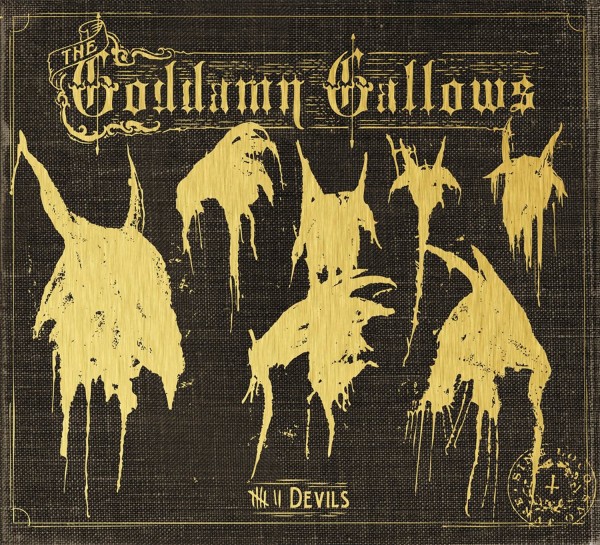 7 DEVILS is the third full-length studio output and it ranges from Gutterbilly Blues, Hobocore,...
mehr
Produktinformationen "GODDAMN GALLOWS - 7 Devils 2xLP"
7 DEVILS is the third full-length studio output and it ranges from Gutterbilly Blues, Hobocore, to Gypsy Punk and Roots Rock!
16 original tracks and one cover on this wild and dirty platter!

Who let the goats out? Crazy Love Records releases "7 Devils" by THE GODDAMN GALLOWS on double 12"LP!! BLACK VINYL!!

Praise the Lord for saving us from the invention of smelling music.THE GODDAMN GALLOWS would for sure bring along the odor of old socks, lost under the bus seat, nasty alcoholic breath and cold smoke, not to forget the sweat of hard working musicians. Maybe we would need a nose clip, if all of this could be emitted through our stereo. The funny thing is, that listening to music, that evokes these associations is really fun – the more as if its performed with the skills of a band like this. "7 Devils (Crazy Love Records) is the welcome re-release of a 16-songs-collection by Mikey Classic and his fellow rock'n'roll hobos originally provided in 2011. It includes all the trademark elements presented on the last output "The Maker" minus the few metal guitar outbursts that are not included here. The diversity of styles guarantees for an album that is never predictable and always entertaining. "Sidewalk Slammer" is similar to the backwood-psychobilly-madness presented on "Gutterbilly Blues" (2007), led by manic, distorded vocals. "Instant Major Felony" brings a bit of parisienne musette-mood on the akkordeon that leads us into a dark circus freakshow, while "Y'all Motherfuckers Need Jesus" is a twisted mixture of melancholy and doom, madness and revelation.
"Nature Of The Beast" is not the outburst you could think of because of the title. It's a minimal acoustic number with guitar and Mikeys undistorted voice – a modern masterpiece of authentic country music. "Serafino" might sound like entertaining gypsy folk on the one hand – the driving mixture of akkordeon, stand up bass and drums is made around by sinister lyrics and hysteric laughter. No, with THE GODDAMN GALLOWS you are never on the safe side of things. Without pretending to obviously to be evil, the morbid and diabolic things in life are represented quite intense in the songs of "7 Devils". Just take a look at the lyrics of "Rotting Away": "Children coughin, infested plague of sin, satan laughin', with his hatred deep within..." The fantastic thing is that words like these come naturally with the music. You never doubt that you are listening to the confessions and narrations of a honest man who knows life from another perspective. The recording of the acoustic instruments like mandolin, banjo, jaw harp, spoons, washboard and things alike helps to establish this atmosphere of authenticity. The sound is well produced but very direct at the same time – almost like in good live-cut of a stage-performance.
The officially Michigan-based lunatics of roots-rock'n'roll are perfectly attuned to each other. Continuos touring pays of in the ability to change from garage reminiscences to lightfeet rockabilly and back again within seconds ("It All Goes Away"). It works as if there was nothing more common in musical history, while Mikey chants: "I see your eyes are red like mine, lets take a walk, lets take a ride, we'll get so high [...] lets take a swim into the deep abyss...". Prepare yourself for unhoped-for errruptions in tempo and aggression as well as for infectious melodies and a rebellious feeling that helps you to cope with the challenges of life. Before I forget: The artwork is outstanding, too. Seven brush-smudges on canvas that look almost like they originated randomly but at the same time show seven goat-heads... Enjoy the title track here and get a hold of these "7 Devils". They are worth


Tracklisting:

1 Ragz N Bones
2 7 Devils
3 47 Crosses
4 The End Of The World
5 Rotting Away
6 Stew Hogg
7 Sidewalk Slammer
8 Y'all Motherfuckers Need Jesus
9 Instant Major Felony
10 Malefactor March
11 Nature Of The Beast
12 Serafino
13 Waiting Around To Die
14 Nowhere Left To Roam
15 Broken Man
16 Raise The Moon
17 It All Goes Away


Weiterführende Links zu "GODDAMN GALLOWS - 7 Devils 2xLP"