Cookie-Einstellungen
Diese Website benutzt Cookies, die für den technischen Betrieb der Website erforderlich sind und stets gesetzt werden. Andere Cookies, die den Komfort bei Benutzung dieser Website erhöhen, der Direktwerbung dienen oder die Interaktion mit anderen Websites und sozialen Netzwerken vereinfachen sollen, werden nur mit Ihrer Zustimmung gesetzt.
Diese Cookies sind für die Grundfunktionen des Shops notwendig.
"Alle Cookies ablehnen" Cookie
"Alle Cookies annehmen" Cookie
Kundenspezifisches Caching
Diese Cookies werden genutzt um das Einkaufserlebnis noch ansprechender zu gestalten, beispielsweise für die Wiedererkennung des Besuchers.
HANK ROBOT AND THE ETHNICS - Elvis-Jello Mojo LP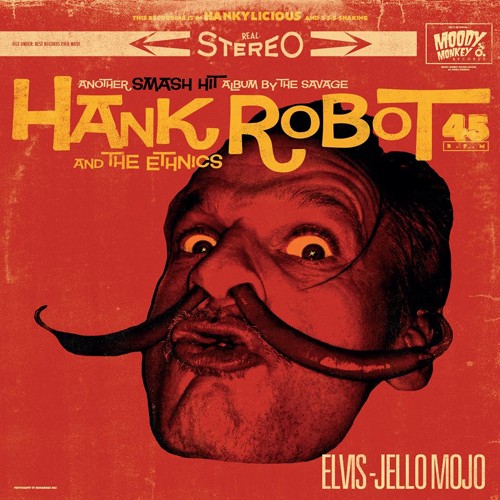 Hank Robot's début album - Powersolo's awesome side project - a heavy punch in your face....
mehr
Produktinformationen "HANK ROBOT AND THE ETHNICS - Elvis-Jello Mojo LP"
Hank Robot's début album - Powersolo's awesome side project - a heavy punch in your face. Bombastic chilli tunes for your feet, incl. moustache instructions for your head. 12 original killers, smashing punkrock on vinyl only, and also available on all main download portals. Long live Hank. Homba ueber alles. Gotta get it, it's a blast.
A couple of months ago, I had the honour of DJ-ing at a Powersolo show and heard, saw and understood (I guess) that night their wonderful ability of going beyond borders, underlined by their huge sense of absurdity. I loved these guys. A short while later, Sir Kim Kix sent me some recordings of another of his bands, HANK ROBOT & THE ETHNICS, and for the first time ever since I heard Destruction Unit (that album you listen to when being seriously hopeless), I had the feeling I could destroy walls and felt frankly relieved. On first listening, you will get a little hint of the Dead Kennedys - especially with their bombastic hit "Homba" -, but don't get fooled: that's only a "trompe l'oreille" and it soon disappears. There was something more, way much more, something making me feel like "I'm in love and I feel fine". Some might call it punk. Well, I guess that's punk, yes! But punk with some nice surprises too... (don't ask, these are surprises). "Lightning Bolt" has this typical fantasy which doesn't readily fit any musical genre, and which I love with Kim Kix. While the opener "Where Are You Gonna Go" might sound modern, well, it is aaaaactually constructed like a wonderful repetitive 60s garage fuzzy tune. It just had to become a Moody Monkey thingy! Thank you Hank & The Ethnics! The really cool artwork is designed by Martin Thorsen of The Courettes.
Bobby McBride once referred to Hank's set as "a bad nightmare in human musical form", adding that it is still true today. "Hank Robot of course is Kim Kix of Powersolo. They are dirty, nasty desperate men, hell bent on destruction. They kind of breach a gap between psychobilly, punk, surf, garage and trashy French pop. Hank Robot is not by a long-shot the only band Kim Kix has aside from Powersolo, but it's my favourite and I'm sticking to it. Robot has been teasing an album for a few months now – he's been getting drunk and laying down tracks. He's been sleeping on stairs, he's that unwelcome house guest or that uncle you had who gave you your first cigarette, a sip of beer and an Iggy Pop tape. You dig him. You get him. After recruiting Anders Birkekær from Drön and Per Silkjær of Fossils, Hank and his juiced up crew headed into the studio and recorded 12 punk songs – the first of which is "Homba" – which according to Robot: "it's a true story". It's a frenetic old school hardcore punk song, not too far away from vintage Dead Kennedys and Dead Milkmen – the good old shit. If "Homba" is any indication of what's to come – I'm stoked. What a fucking slice of authentic trash this is. The whole world is looking at Aarhus for 'punk' music – we might as well keep dishing it up with Hank Robot to shit it out to the masses with his new band: The Ethnics." Bobby McBride
Tracks:
For You And For Me
Homba
Damen
i'm Burning
Switchblade
Where Are You Gonna Go?
Pikoman
Suicide Man
C'est La Vie
Holy Murder
Hang On
Lightning Bolt
| | |
| --- | --- |
| manufacturer: | MOODY MONKEY |
Weiterführende Links zu "HANK ROBOT AND THE ETHNICS - Elvis-Jello Mojo LP"