Für die Filterung wurden keine Ergebnisse gefunden!
DIGGERZ - A Psycho's Tales LP
Hailing from Essen in Germany, this is The Diggerz début release (even though they've been together for 5 years, the lazy bastards) on everyone's favourite record label Crazy Love . Without even listening to the music I immediately...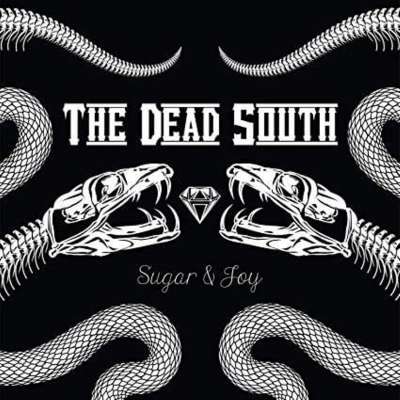 DEAD SOUTH - Sugar And Joy LP ltd.
New 2019 album by genius canadian Bluegrass / Americana band! 01. Act Of Approach 02. Diamond Ring 03. Blue Trash 04. Black Lung 05. Fat Little Killer Boy 06. Broken Cowboy 07. Snake Man Pt. 1 08. Snake Man Pt. 2 09. Heaven In A...
DAYTON, JESSE - Mixtape Vol.1 LP ltd.
Equally steeped in Texas/Louisiana blues, old-school country and punk-rock, Dayton is the music world's best-kept secret, hiding in plain sight as a guitarist for Waylon Jennings, Johnny Cash, Ryan Bingham and L.A. punk pioneers X, as...
DAYTON, JESSE - The Outsider LP ltd.
2018 release. The Outsider was recorded in Atlanta, Denver, Nashville and Austin during a non-stop touring cycle and mixed by Grammy Award winning engineer/producer Vance Powell (who has worked with the likes of Sturgill Simpson, Chris...
DAYTON, JESSE - The Revealer LP ltd.
2016 release. Jesse Dayton's (The Roadkings) ninth studio album, The Revealer, is a barn burner gumbo of country, blues and punk, all mixed together into what would now be called Americana. Produced by John Evans and engineered by Steve...
DOYLEY & THE TWANGLORDS - Return Of The Twangi...
DOYLEY AND THE TWANGLORDS - Return Of The Twangi LP ltd. purple vinyl, 100 copies made! Excellent instrumental album from the U.K. guitar king Doyley! A1 Prime Directive X A2 Zombies On The Underground A3 Joe 90 A4 Lost In Space A5 Botz...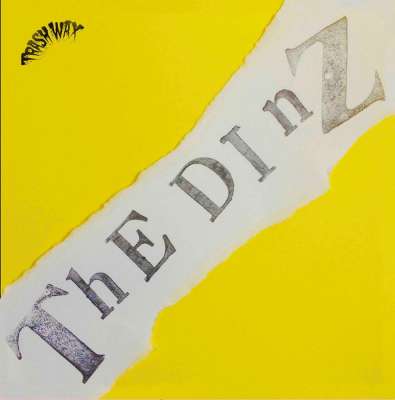 DINZ - Same LP
No garage punk, no surf and no rockabilly type stuff at all here...Punk Rawk from Pompey (Portsmouth in England). A blistering album of 77-78 styled punk (although they only got together in April 2018)...All original tracks and banged...
DEMENTED ARE GO - Welcome Back To Insanity Hall...
DEMENTED ARE GO - Welcome Back To Insanity Hall LP ltd. Re-release of 2012 album! 500 copies on splatter vinyl + printed insert! A1 Intro A2 Welcome Back To Insanity Hall A3 Bodies In The Basement A4 Retard Whore A5 Engine Trouble A6...
DANNY O & THE ASTROTONES - Introducing...LP ltd.
DANNY 'O' & THE ASTROTONES - INTRODUCING... LP The debut LP of this red hot UK Rockabilly band. 14 tracks, that will rock your socks off. Premium manufacturing comes in a multicolored gatefold cover including a glossy 12" 8 page insert...
DANNY O & THE ASTROTONES - Paint The Town 7"
DANNY 'O' & THE ASTROTONES: PAINT THE TOWN / DRINKIN' ON A SCHOOL NIGHT 7" The second hot rockin' vinyl strike by this young & savage UK Rockabilly band of former Caezars lead guitarist Danny Dawkins. Two more 21st-century rockabilly...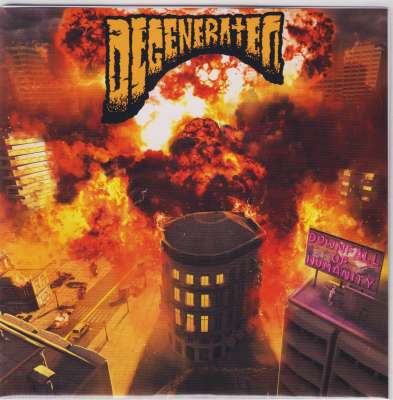 DEGENERATED - Downfall Of Humanity 7"
DEGENERATED 7" 2 new tracks from Berlin Psychobilly trio DEGENERATED!! Tracks: Downfall Of Humanity / I Hate It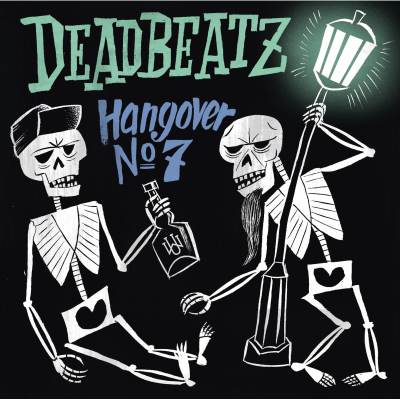 DEADBEATZ - Hangover No.7 LP ltd.
Unique band and songs and sounds! Just damn great stuff, packed in a lovely artwork! This is a short story about a long beard. A small story about a big incident that formed the style of this band. A tale about two guys with a bass,...