Für die Filterung wurden keine Ergebnisse gefunden!
DIGGERZ - A Psycho's Tales LP orange ltd.
ltd. edition of 108 numbered copies on orange vinyl + inlay! Hailing from Essen in Germany, this is The Diggerz début release (even though they've been together for 5 years, the lazy bastards) on everyone's favourite record label Crazy...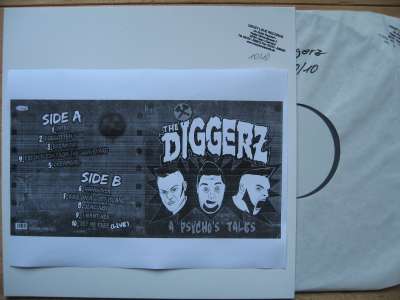 DIGGERZ - A Psycho's Tales LP test pressing ltd.
white label Test pressing from the upcoming vinyl release! 10 numbered copies made!
THE DAD HORSE EXPERIENCE - Electric Gates Of...
One-Man Band Keller-Gospel from Germany! 1 Gates Of Heaven (Vinyl Version) 2 The Moonshiner 3 I'm Not Here Anymore ltd. to 500 copies!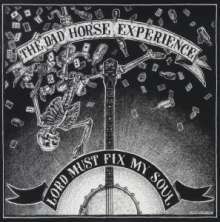 THE DAD HORSE EXPERIENCE - Lord Must Fix My...
One-Man Band Keller-Gospel from Germany! 1 Lord Must Fix My Soul 2 Find My Body Down ltd. to 500 copies!
DANGEROUS CURVES - I Cast A Lonesome Shadow 7"...
Take 5 top musicians, put them together and let them what they always dreamed of. The result is a great Bluegrass / Hillbilly session now pressed on black gold. Migraine Records recording artist Bill Fadden on vocals, Steve "Humungus"...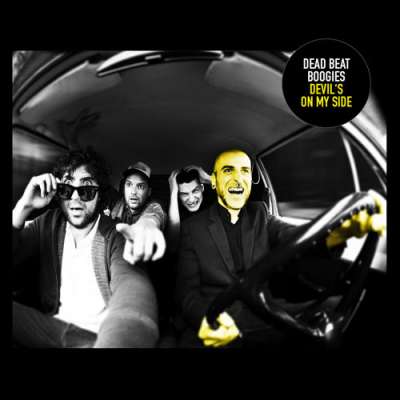 DEAD BEAT BOOGIES - Devil's On My Side LP ltd.
Founded in Cologne in 2010 by Tom, Max and Stefan as a three piece rock'n'roll outfit, we tried to do things differently. Bass-less combo, inspired by old blues music and influenced by everything from acid rock to punk, transformed...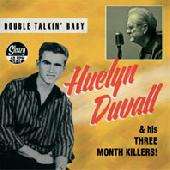 HUELYN DUVALL AND HIS THREE MONTH KILLERS 7"EP
HUELYN DUVALL AND HIS THREE MONTH KILLERS - Double Talkin' Baby 7"EP Huellyn Duvall: Vocals Carlos A. del Bosque: Guitars Adolfo Ruiz: Upright Bass Juan Fresneda: Drums Side A: Double Talkin' Baby Just Me And You Baby Side B: Where We're...
DALE ROCKA ANDTHE VOLCANOES - Jump Into...
50's style Rockabilly! 1. The Midnight Ball 2. Go Man Go 3. That`s Why I Tell You 4. Devil In Me 5. Remember Last Night 1. Mama Bring Back My Blue Suede Shoes 2. Bad Blood 3. Willa Mae 4. Quick Kiss 5. Rag Mop ltd. edition of 500 copies!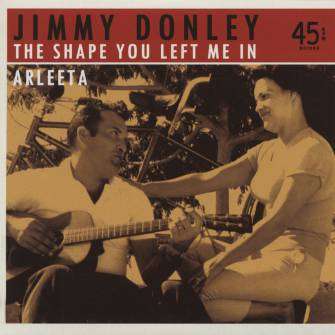 DONLEY, JIMMY - The Shape You Left Me In b/w...
Jimmy Donley - the greatest recordings from the original King of Swamp Pop! Part rock 'n' roll, part R&B, part country, and part Cajun, Donley's music was like nothing before or since. He wrote hits for Fats Domino and others, but sold...
DR. LOOMIS & THE FREAKIES - Freakyland...
Psychobilly from Reims, France with their debut LP on ltd. red vinyl! They mix oldschool and newschool Psychobilly, with punkrock influences. Songs about psychiatric disorders, sexual perversions, alcohol, rock'n roll, horror movies,...
DIVING FOR SUNKEN TREASURE - Motherfucker Jazz...
Berlin Gypsy-Punks with their unique mixture of Swing, Rockabilly and Punk! A real treasure! 2 guitars, stand drums and slapping bass!!! Endlich: Mit »Motherfucker Jazz Bar« melden sich Diving For Sunken Treasure unter großem Getöse auf...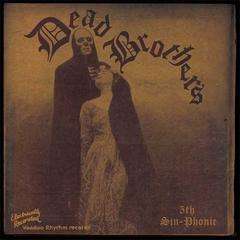 DEAD BROTHERS-5th Sin-Phonie LP
1998 the Dead Brothers started in Geneva Switzerland a Whole New Music Area. They mixed Gipsy Music with Blues Rock'n'Roll and Delinquent Jazz. They called themselves the Only Real Heavy Metal Band, sometimes they had up to 9 tubas on...