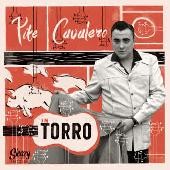 South east of Spain, land of ol' gun-loaded bandits and desert landscape where Sergio...
mehr
Produktinformationen "PIKE CAVALERO - Torro CD"
South east of Spain, land of ol' gun-loaded bandits and desert landscape where Sergio Leone filmed his most legendary Spaghetti Westerns back in the 1960's.
There's nothing strange when I say in this atmosphere rose up the strong personality of that rockabilly cat called PIKE CAVALERO!
Rockin' all over the country and abroad, takin' the crowd by storm in the best known international weekenders as Hemsby, Rockabilly Rave, Rockin' Race or High Rockabilly, to name just a few.
This SLEAZY RECORDS recording artist leaves behind a self produced EP-CD, a couple of EP's plenty of dancefloor killers and a complete CD 'Just a matter of manners', denominated as 'Best Rockabilly album of the year 2011' !!!
Back from the studio, he's ready to hit the circuit again and shake the house down with this slice of rockabilly frenzy named TORRO.
This main title was originally recorded by Rosco Gordon on the legendary Sun label as flip side of Sally Jo. Here Pike opens fire with attitude, proud of the Spanish folklore roots.
Yep, not only strong drivin' Rockabilly rhythm can be found. You will know what I mean if you dig the Bo Diddley jungle beat of 'Little I' or the country rocker 'Carrera del desengaño', a Spanish adaptation of the great late George Jones classic 'The race is on'.
Reminiscences to Charlie Feathers boppin' raw with 'My bunch of lovin' girl' or to Ted Harris with that cool strollin' track 'Let's get this chicken fried'.
Pike Cavalero shows how to bop with guts with the ass kicker 'Six shooter blues', previously released but remixed & remastered for this brand new record. Same as 'When I've got the blues' or the jivin' number 'Wannabes'.
Hey DJ's, there's a tip for you! Do you wanna get the dancefloor busy? 'Black hearts club' is a boppin' WINNER!!!
Another highlight is 'My misery', a brilliant jiver with an hypnotic guitar work where the swamp pop meets the Bakersfield sound.
Last but not the least, if these words are not enough to show the skills of Pike as singer and talented songwriter, then catch the feelin' with 'Ragin' Sea', a nice Nashville type ballad rounded off with a classy Studio B-alike production including strings arrangement and the superb vocal harmonies of the Del Prince.
Little less conversation, a little more action please. Grab the record out off the sleeve, play extremely loud and...take the TORRO by the horns!
DJ ROCK-OLA JORDI

TRACKLIST CD

1. Intro
2. Torro
3. My misery
4. Black Hearts Club
5. Ragin' Sea
6. Take it easy
7. The Mine
8. Let's Get This Chicken Fried
9. Six Shooter Blues
10. Carrera del Desengaño
11. My bunch of lovin' girl
12. Wannabes
13. When I've got the blues
14. Little I
Weiterführende Links zu "PIKE CAVALERO - Torro CD"