Für die Filterung wurden keine Ergebnisse gefunden!

VINCENT, GENE & THE BLUE CAPS-Same CD
The classic first Gene Vincent album from 1957 + 5 bonus tracks!!

VOODOO SHAKERS - Shake it! CD
MIx between Blues, Surf and Rock´n´´Roll. TRACKLIST:I got time/Mojo workout/Ride in the sunset/Ruby black hair/Go to go/Mr. Moto/I'm comin' up/6 days/I'll never drink again/Voodoo road/Run chicken run /Hey now

VERNON AND THE GI´S - GI Bop CD
Vernon & The GI's play 1970's teddy boy rock'n'roll. This is cult! TRACKLIST:Ghost train boogie /Rockabilly twist /I can count three stars /Be boppin' baby /Big Al/Jim Dandy/GI Bop /I'm a Teddy Boy /If you want me c'mon over here and get...
VAN ORSDELS-Miami Morgue Riot! CD
Power US Psychobilly from South Florida! Straight outta the swamps of south hell, the unholy union of psycho, surf, punk and metal performed by lower-class, multi-ethnic zombies with some goddamned shiny hair! TRACKLIST: TVO Go!/ Dancing...

VIBRO CHAMPS-The Stimulating Sounds of the...CD
The 1993 Debut of the US Rockabilly Band. TRACKLIST:Kurdish Instrumental #9 / Foreign Affair / Dig Me A Hole / Martian Trip / L'il Red Riding Hood / 99 Years To Live / Tired Of Rockin' / Galway Bay / Cold Cold River / If Only My Heart...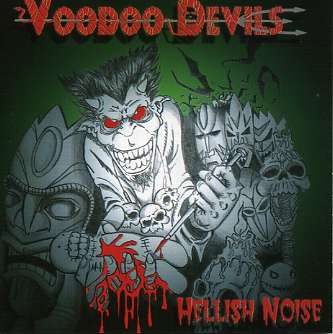 VOODOO DEVILS - Hellish Noise CD
TRACKLIST: VOODOO Lover/Dr Death/Where Down/You Know?/Jack/Bad Bone Boogie/Blood/When Sun Goes Down/Take A Ride/Lie/Psycho Dead/VOODOO DEVILS COMING/VOODOO BE BOP A LULA

VANIAN, DAVID & THE PHANTOM CHORDS-Same CD
David Vanian of the U.K. Punkband The Damned with a fantastic Voodoo/Rock`n`Roll album! Tracklisting: 1. Voodoo Doll 2. Screamin' Kid 3. Big Town 4. The House Is Haunted 5. You And I 6. Whiskey And Me 7. Fever In My Blood 8. Frenzy 9....