Für die Filterung wurden keine Ergebnisse gefunden!
WIGSVILLE SPLIFFS - Same CD
Classic 80's Neo-Rockabilly from this legendary Klub Foot band! Tracks: Buzz Outta You ~ Country Lovin' ~ Wigsville Blues ~ Al Capone ~ Born To Love One Woman ~ You Don't Care ~ I Ain't Lonely No More ~ I Got A Feeling ~ If I Tell You...

WHISKEY DAREDEVILS-Introducing...CD
The 5th album from this U.S. Country-Punk-A-Billy band (ex-Cowslingers)! 01) Never Saw Johnny Cash 02) I Ain't Him 03) Left Me On A Train 04) Thicker Than Wine 05) Drive 06) The Last Guest List 07) West Akron Shakedown 08) Me And My...

WILD BOB BURGOS-Destination Rockin' CD
14 great self penned songs like 'United we stand', Nightingale Stomp', 'Spend it all' and many more. The man who sings and plays the pure, heartbeatin', exciting true Rock'n'Roll on this CD album, is really a believer in our music! To be...

WHISTLE BAIT-Switchin' With...CD
Tracklisting: SWITCHIN' IN THE KITCHEN / THE FIRST CUT IS THE DEEPEST / NIGHT AND DAY / LITTLE BITTY THINGS / HOW CAN YOU TREAT A GUY... /DON'T KNOCK IT / WEB OF LOVE / KANA KAPILA / BEDTIME TEACHER / CHEEK FLAPPER / TALK ABOUT LOVE /...

WHISKEY REBELS-Create Or Die CD
WHISKEY REBELS blend the furious pace and aggression of hardcore with the swagger of old school Oi! and street punk. It's hard hitting and in your face, and makes no apologies. Singer Big Chuck's lyrics tell personal tales of life on the...

HANK WILLIAMS III-Risin Outlaw CD
The Grandson of the legendary Hank Williams! TRACKLIST: I Don't Knock / You're The Reason / If The Shoe Fits / 87 Southbound / Lonesome For You / What Did Love Ever Do To You / On My Own / Honky Tonk Girls / Devil's Daughter / Cocaine...

WHITE PUSSY-Notorious Deafmen Goes White Pussy CD
Fun loving Psychobilly 5-piece from Berlin with some pieces of Surf and Garage! Old band - new name! Tracklisting: 1. It's Not Me 2. Let's Go Wilder 3. Cindy Oh Cindy 4. Superman 5. Deep Blue Spree 6. Meaning Of Live 7. Hey Girl! 8....

WAGTAILS-Cat Food CD
50`s style Rockabilly from Finland! Tracks: How Long Does It Take / Six Ribbons / Red Hall Lights / Please Be Fair / I`m Walking / I Drink `Cause I Can / Tomorrow Night / Still Hanging On / Forgive Me Please / Baker Street Wonder-boy /...

WIGFALL, MICK-Analyse This CD
First album from Mick Wigfall, the ex-bass player of Darrel Higham`s Enforcers and also being in Solid Smoke! 15 good rocking tracks with Les Curtis on drums and Darrel Higham on guitars!Tracks: Doin' Time For Being Young / Crazy Beat /...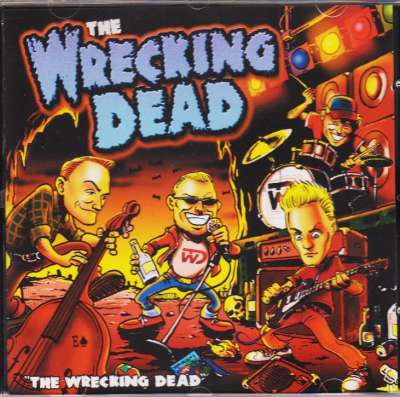 WRECKING DEAD - The Wrecking Dead CD
Beware, the vikings are coming! The Wrecking Dead from a Denmark are a new and promising band! They stomp and roll through a great set of Psychobilly meets Punk! Tracks: Let's Go / Zombie Boy / Revolution? / Wrecking Dead Psychos / 16/30...